Message from the President
Since we established Hikari World, we have been aiming the business that suits the new era of used tires' collection and conveyance, and intermediate treatment of industrial wastes. At the beginning, used tires have used to be recycled into material of reclamation tires, rubber seal, straw sandal sole, rubber mat, and so on, but it occurred the difficulties of recycling because of improvement of tire technology and radial tire's appearance. However, recent years, the technology for removing and dividing metal from tire have improved remarkably, and enhanced the rate of material recycling not only disposal but also process for returning to original material. While people are on the situation that they need to think about limited environmental materials, we Hikari World drive for change to process and produce, and we plan to study technologies and introduce substantial facilities more. We sincerely appreciate for your continuous support.
CEO Kiyonobu Yoshimoto
Corporate Data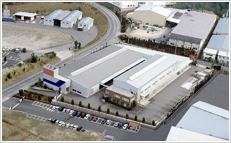 Vision
Hikari World Co., Ltd. aims to independent as a manufacturer of recycling from industrial wastes.
Business Field
Hikari World Co., Ltd. works on any businesses which are concerned with recycling used tires and resources by a collection and conveyance as an intermediate treatment company. We promote not only reusing and recycling, but also cooperating other companies to fulfill social responsibilities. Then, we aim to live close together with the global environment based on our activity which is to contribute the environmental preservation and the preventing depletion of resources.
1.We observe the rules that are about our environmental regal regulation and other required things strictly.
2.We endeavor to improve the environmental situation continuously based on the environmental management system of ISO14001.
3.We promote reusing and recycling used tires and rubber products. Especially for recycling, we raise the rates of thermal recycling and materials recycling both, and work on stop preventing depletion of resources.
4.We promote the environmental beautification action inside and outside the company.
5.We prompt our all employees and main business partners to consider about the environment.
Company Name
Hikari World Co., Ltd.
Location
1309 Sugawa-cho,
Gojo, Nara, 637-0014
JAPAN

Phone
+81-747-26-3000
Fax
+81-747-26-3380
URL
http://www.hikari-world.com/
Founded
Apr, 1946 Established
Nov, 1993 Corporate
May, 2001 Transferred used tire treatment plants to Techno park Nara
Capital
10,000,000 yen (10 million yen)
Description of Business
Used Tire Treatment and Reclamation Center Reclamation Rubber Material Business
Retread Consignment Process
Used Tire Treatment Center
Collection, Conveyance and Treatment Business
Chairman
CEO Kiyonobu Yoshimoto
Number of Employees
30
Certification
Industrial Waste Disposal Permit Nara No. 02926018147
Establishment of General Waste Treatment Plant Permit Nara No. 02-1
      Industrial Waste Treatment Plant Modification Nara No. 10-1
      Collection and Conveyance of Industrial Wastes Permit
      Osaka No. 2700018174
      Wakayama No. 3000018174
      Hyogo No. 02804018174
      Nara No. 02902018174
      Kyoto No. 02600018174
      Mie No. 02400018174
      Aichi No. 02300018174
      Gifu No. 02100018174
      Shiga No. 02501018174
      Tokushima No. 3600018147
      Kagawa No. 03709018147

Belongs
Japan Scrap Tire Recycle Association